Extra-curricular
Sport
We take part in the Cumann na mBunscol leagues every year. The Gaelic football league takes place in September/October and the Hurling takes place in April/May. We have been very successful in the past and most recently won the Corn Seán O Rinn (Hurling) in 2019.
Our Lady's BNS also competes in the Athletics events in Santry every year.
After-school clubs
Homework Club Ms. Kiely/Ms. Howlett akiely@olbns.com / cmthowlett@olbns.com
Sports Club Ms. Lane emmalane@olbns.com
Lego Club Ms. McCormack nmccormack@olbns.com
Coding Club Ms. Flattery sflattery@olbns.com
Science Club Ms. Delaney ldelaney@olbns.com
Sherpa Kids
Sherpa Kids also provide after school care on site in Our Lady's BNS. For more information and booking see their website www.sherpakids.ie
Green Flag
Green-Schools is a student-led programme with involvement from the wider community. In our school the programme is operated and coordinated by members of staff and the Green Schools Committee.
Through the Green Schools initiative, we aim to:
Promote long-term, whole-school action for the environment

Encourage young people to engage in their environment by allowing them the opportunity to actively protect it.

Raise an awareness of and encourage a sense of responsibility in relation to:
Litter and Waste
Energy
Water Conservation
Travel
Biodiversity
Global Citizenship- Litter and Waste
Global Citizenship-Energy
Global Citizenship- The Environment
Global Citizenship- Travel
Global Citizenship – Food and Biodiversity
Active Flag
An Active School is a school where physical activity is valued, promoted and enjoyed by all. The Active School Committee aims to enable our school to achieve a physically educated and physically active school community.
Through the Active Flag initiative, we aim to:
Promote physical activity in a fun, positive and inclusive way

Engage in a process of self-reflection, action planning and collaboration at a whole school level

Identify strategies to energise the school day and to reduce sedentary time

Strengthen our PR programme and promote physical literacy

Provide students with voice, space, influence and audience to participate in the decision-making process of the school.

To strengthen partnerships with parents and local and national organisations.
Amber Flag
The Pieta Amber Flag Initiative recognises the effort of our school to create a healthy, inclusive environment that supports mental well-being.
Through the Amber Flag initiative, we aim to:
Promote positive mental health and wellbeing among the school community

Raise awareness of the stigmas which exist in our environment

Identify the stressors on the mental and emotional wellbeing of students within our school community.

Enhance inclusivity through teamwork and social support

Reduce risk factors through increased awareness and education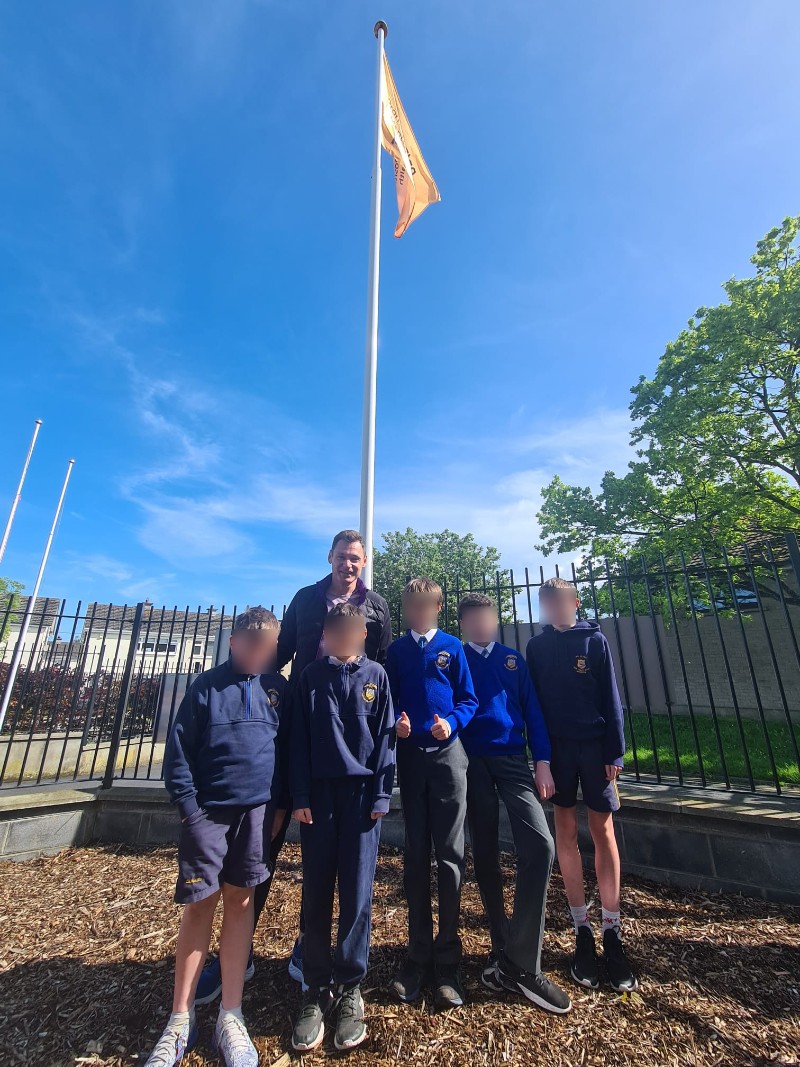 Former Student David Gillick recently helped our Amber Flag committee raise our flag.
Student Council
Our Student Council is a representative structure for students, through which they can become involved in the affairs of the school, working in partnership with school management, staff and parents for the benefit of the school and the students.
The aim of the Student Council is to provide students with greater involvement in the decision making procedures of our school and to help them learn about how democracy works. Generally, two children from each class are elected by secret ballot and are appointed as representatives for their class to the council for the duration of the school year. Infant classes tend to be represented by two elected pupils from 6th Class.
School Activities
Gaelic Games
We are very lucky to be so close to one of Dublin's foremost GAA clubs, St John's GAA Ballinteer.
Many of our boys are already members of a lot of the teams in both hurling and football and indeed many a past pupil has made the Dublin Senior Football and Hurling teams.
Rugby
Leinster Rugby come into the school once a week and train one of the classes in the game of rugby.
All classes from 1st up engage in training.
Hockey
Hockey Ireland come into the school and coach the boys in the game of hockey.
Athletics
We are very lucky to have such great staff who train our boys in athletics. Our main event each year is the Cumann na mBunscol Athletics Finals which take place in Santry every summer term.
Gymnastics
We have a team of coaches from Muckcross Gymnastics Club who provide all classes with gymnastics classes.
Other school activities
Our Parents Association organise swimming lessons after school on Fridays in our local swimming pool in Meadowbrook.
School Hall
Our school hall is a thriving place of activity outside of school hours also. There are many activities taking place on a weekly basis in our school hall, from yoga and Zumba to karate and Irish dancing.
For more information on these activities and how to book our school hall please contact Alan Burke on 086 1584 564 or by email: olnschoolhallbookings@gmail.com
All renters must have their own Public Liability Insurance policy. The rate is currently €25.00 per hour, min 2 hours to be hired.